We are the UK Government's independent adviser on sustainable development. Through advocacy, advice and
appraisal, we help put sustainable development at the heart of Government policy
Transport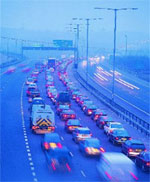 The SDC has worked to support Government in developing a transport system that works better for everyone, without damaging the health of our communities or leaving a legacy of environmental damage for our children.
Key approaches have been encouraging the move away from 'predict and provide' for powered transport (including rail and aviation), and working instead towards policy choices that are guided by a vision of a sustainable transport system which is not car-dependent - but does recognise that the car has brought some benefits - and which no longer disadvantages the poorest and most vulnerable in society.
Our work has included advice on the future of air travel, high speed rail, the role of ICT, road safety and reducing carbon emissions as well as a sustainable travel policy for central government. However, the challenge remains for Government to create a framework and introduce policies, which achieve a better balance between potentially conflicting rights and freedoms in a way that is equitable for both this and future generations and, which respects environmental limits.
We believe the solution lies in the application of a simple hierarchy in transport policy, which sets out a sequential approach of demand reduction, modal shift, efficiency improvements and then finally capacity increases. This approach recognises the importance of behaviour change where the key opportunity for policy makers over the next period will be to reduce the demand for road travel and modal shift to active travel and public transport. Secondly it recognises that transport should not be dictated by the needs of travellers but by all that are affected from its impacts.
Scotland
Transport has been a particularly difficult policy area in terms of sustainable development with dramatic increase in road traffic and no-growth in active travel. To inspire a change in policy principles SDC Scotland published Getting There- A Sustainable Transport Vision for Scotland. The report highlights that there is no need to initiate massive infrastructure projects to solve Scotland's transport and economic problems but instead to make better use of technology, boost active travel and use planning to make our towns and workplaces accessible.
Key Publications
» Fairness in a Car-Dependent Society - This report sets out the costs associated with our car dependency, and how we can ensure that the decisions we make about future transport priorities help minimise the negative impacts on everyone.
» Smarter Moves: How Information Communications Technology can promote Sustainable Mobility - This report looks at how ICT could transform the way we choose to travel, and so make both our travel and our lifestyles more sustainable. It concludes that a concerted Government and business focus on ICT solutions could help provide answers to some of our most pressing transport problems.
» SDC's response to The DfT's A Safer Way: Consultation on Making Britain's Roads the Safest in the World
Our response to the Department for Transport's A Safer Way: Consultation on Making Britain's Roads the Safest in the World highlights the synergies between safety and sustainability and concludes that enabling and encouraging people to choose the most sustainable ways of travelling will make our roads a safer place for everyone.
» SDC's response to Delivering a Sustainable Transport System: Consultation on Planning for 2014 and Beyond
Our response to the Department for Transport's "Delivering a Sustainable Transport System" consultation includes our recommendation that the Department revises one of its five overall goals and introduces our concept of a "Transport Hierarchy", similar to existing waste and energy hierarchies.
» JMP's Review of Government Travel
We have commented on JMP's report A Review of Government Travel, commissioned by the SDC and OGC, which maps out the key issues for developing sustainable travel in central government departments and their executive agencies.
» SDC's Response to DfT's refresh of their New Approach to Appraisal (NATA)
Our response to the Department for Transport explains our recommendations for changes to the system used to appraise transport schemes.

» Reducing Carbon Emissions from Transport
Our submission to the Environmental Audit Committee details how Carbon emissions from private vehicles can be reduced.

» Biofuels and the Renewable Transport Fuels Obligation: SDC response to DfT
In this report to DfT, we recognise that biofuels may have a part to play in reducing transport related CO2 emissions. However, this will depend on the appropriate safeguards being in place.

» SDC submission to the Eddington Review
The aim of the Eddington Review was to assesses the long term links between transport and the UK's economic productivity, growth and stability.
» Climate Change Programme Review - SDC Submission

» VED Modelling - Technical Backup - In the SDC response to the Climate Change Programme we argued for a new top VED band of £1800 for vehicles emitting 221 g / CO2 / km or greater as a policy that would dramatically improve the market demand for highly fuel efficient vehicles.
» A short summary of our position on Biofuels (updated in May 2008) - Biofuels have been identified as a potential means of reducing carbon emissions, the SDC published their advice to the Department for Transport in June 2006.
» The potential for high speed rail in the UK and an assessment of its environmental benefits Capita Symonds - This report was produced in response to SDC's request to assess the potential for the introduction of high speed rail in UK and examine the environmental benefits.