We are the UK Government's independent adviser on sustainable development. Through advocacy, advice and
appraisal, we help put sustainable development at the heart of Government policy
Aviation
Flying has a lot of benefits - supporting jobs and the economy, taking people on holiday to see new places and experience different cultures. But it also has a lot of downsides, particularly to those people living around airports and its big and growing contribution to climate change.
Contested Evidence: The case for an independent review of aviation policy (September 2008) examines some of the big disputes and gaps in information which are leading to conflict.
It sets out some of the opposing views of a wide range of stakeholders concerned about aviation, and makes the case for an independent review of policy and a true national debate before major decisions can be made on the future of air travel in the UK.

» Press release

Breaking the holding pattern: a new approach to aviation policymaking in the UK (May 2008), finds that there is widespread controversy over the basic economic, environmental and technological data on air travel in the UK. The report concludes that a new evidence base establishing the true benefits and impacts of aviation must be created before any decisions on major airport expansion can take place.
» Executive summary
» Press release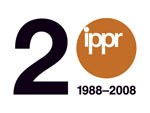 To help inform our thinking about how aviation could contribute towards sustainable development, the SDC and Institute for Public Policy Research (ippr) carried out an assessment of aviation stakeholders that included the aviation industry, NGOs, civil society groups and government departments and agencies.
» Stakeholder Assessment of Aviation

Participants in the Assessment agreed that to be sustainable, aviation should meet the following five challenges: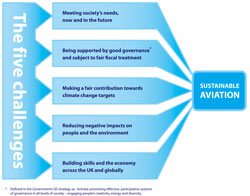 Click to view larger diagram (opens in new window)
However, the Assessment also revealed considerable disagreement about what that meant for the future of aviation in the UK. Many of these arguments were over the evidence that government uses to inform their decisions.
The SDC and ippr conclude that the level of conflict and uncertainty is bad for government, the aviation industry and the ordinary travelling public – and that they should do something to reduce it.
Breaking the Holding Pattern recommends that to reduce the levels of disagreement around the future of aviation, government should create an independent Special Commission to get more agreement on the evidence (particularly on the economic benefits), and speak to the public and stakeholders about the best way forward for policy. Following this, the Government should revise their existing policy on air transport.

The report warns government that decisions about new runways at Heathrow and Stansted should be put on hold until the Air Transport White Paper has been reviewed.
Further reading