We are the UK Government's independent adviser on sustainable development. Through advocacy, advice and
appraisal, we help put sustainable development at the heart of Government policy
Breakthroughs for the 21st Century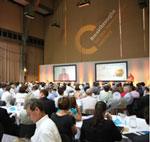 In 2008/9 the SDC ran its Breakthroughs for the 21st Century project, in order to gather and showcase ideas that we felt had the potential to help transform the UK into a more sustainable society. Our aim was to shine a spotlight on some of the best ideas out there, to create energy and enthusiasm around those ideas, and to bring together the people who could help make them happen.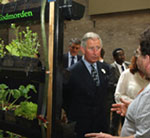 We showcased 19 Breakthrough ideas at an event held in London in July 2009. Hosted by Jonathon Porritt, Anna Ford, Jonathan Dimbleby and Rosie Boycott, the attendees included HRH the Prince of Wales, the Rt Hon Ed Miliband, the Rt Hon Hilary Benn and Welsh Assembly Minister Jane Davidson, as well as over 400 high-level delegates from government and a range of sectors and organisations.
» Breakthroughs for the 21st Century report
» Where are we now?, the evidence review that shows why we need breakthroughs in sustainable development
View this video on YouTube
This short film showcases the 19 final Breakthrough ideas, as selected by the SDC. It includes footage from the Incredible Edible Todmorden project in Yorkshire, Greater Manchester's Retrofit Plus idea, and the idea to transform the Royal Bank of Scotland into the 'Royal Bank of Sustainability'. The film was shown at the 'Breakthroughs for the 21st Century' event on 1st July 2009.