We are the UK Government's independent adviser on sustainable development. Through advocacy, advice and
appraisal, we help put sustainable development at the heart of Government policy
Economics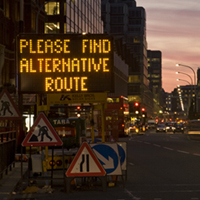 The events of the last few years have revealed the huge risks inherent in the current global financial system. At a deeper level, there is growing recognition that we need to build a new and more responsive economic model if we are to respond to three imperatives: reducing global poverty, enabling us to live within environmental limits (of which carbon is but one), and moving beyond GDP as the predominant way of trying to measure quality of life.
At a macro level the SDC has worked to highlight these imperatives. The SDC's 2009/10 report Prosperity without Growth? described this dilemma and has joined Joseph Stigliz's Beyond GDP, the work of the Sarkozy Commission, and many others in helping to open up a serious dialogue about the nature of the transition needed.
In addition the SDC has worked to advise Government on how best to respond to this challenge in their policies and programmes in order to aid the transition to a more sustainable economy in the run up to the Rio+20 Earth Summit. Some priority areas we have identified were:
the need for new sustainable investment models to drive the transition to a more sustainable economy by stimulating and directing investment into more sustainable activities including the need to support community scale options for investment that could better support local and regional investment. Following the Commission's proposals for a Green Investment Bank in the 2009 'Breakthroughs' Report we have subsequently argued to for a GIB to support the aggregation of smaller projects to attract investment, a key finding in effecting a step-change in neighbourhood energy efficiency and renewable investment and wider community retrofit programmes as set out in our report The Future is Local
the need to ensure that government measures more than GDP by developing a new set of Sustainable Development indicators as recommended by the SDC in Prosperity Without Growth? and also by the Sarkozy Commission. This work has been picked up by the new Government, in particular in developing a set of quality of life or well-being indicators to run alongside GDP and a recent consultation on well-being indicators. The main challenge is to ensure that these indicators provide more than just an 'add-on' or 'fine-tuning' for traditional growth based economic model
working with the Government Economic Service , Better Regulation Executive and Treasury to press for the Green Book to include a definition of ecological assets and critical limits in a way that gives SD traction in government decision-making.
Our work with the Northern Ireland Executive, Scottish Government and Welsh Assembly Government has ranged from advice on Economic Renewal and Green New Deal initiatives, the latter building on our report on a Green New Deal stimulus package for economic, social and ecological recovery, as well as co-ordinating a report, funded by the Carnegie Trust, to engage the Scottish Government and others on discussion as to how Sarkozy Commission work could be applied to Scotland.
There is also an economics component to other parts of SDC's work. This is reflected in many of our publications, some of which are listed below.
Wales
In Wales, the Commission has drawn on its own expertise and engagement with stakeholders to promote debate about a sustainable economy and provide expert analysis for both the Welsh Assembly Government and the National Assembly for Wales. We have contributed to major policy developments, providing input to the Assembly Government's Green Jobs Strategy, Economic Renewal Programme and subsequent work to examine the challenges facing critical infrastructure.
Scotland
In November 2010 SDC Scotland joined forces with the Carnegie UK Trust to set up a Scottish Round Table on Measuring Progress. This work was inspired by the International Commission headed up by Joseph Stiglitz. This Commission reported in 2009 on how to move beyond using GDP as our primary measure of progress.
We invited experts from the UK and Scottish Governments to share their experiences and debate challenges with the Round Table. The Round Table's report will be published by Carnegie UK Trust in May 2011.
Our aim is that the Round Table's findings will help the new Scottish Government look at how it can better measure well-being and progress to sustainability, while also improving reporting and use of the existing National Performance Framework.
Key Publications
» Prosperity without Growth? - The transition to a sustainable economy
» SDC response to Questionnaire for the Major Groups on Experiences, Success Factors, Risks and Challenges with regard to the Objective and Themes of the United Nations Conference on Sustainable Development October 2010
» Memo on NATA Refresh (2008)
SDC has contributed to the Department for Transport's rethink about how it appraises proposed road and other transport schemes.

» Evidence to the Commons Environmental Audit Committee (2006)
SDC contributed to the Environmental Audit Committee's inquiry into environmental taxation and the economics of climate change.

» Evidence to the Stern Review on the economics of climate change (2007)
SDC made proposals on corporate reporting requirements, in response to a consultation carried out by the Department for Trade and Industry (now BERR).

» Memo on corporate reporting (2007)
SDC was asked to present evidence to the Scottish Parliament Finance Committee.

» Analysis of the Scottish Government's Budget and Spending Review
Written evidence to support oral presentation to the Scottish Parliament Finance Committee 4th December 2007.
» The Future is Local: Empowering communities to improve their neighbourhoods
» Know your environmental limits: A local leaders' guide
» SDC evidence: Green Investment Bank
» Breakthroughs for the 21st Century
» SDC advice to Rt Hon. Oliver Letwin MP
» SDC Challenge Paper: Measuring what matters in light of the Stiglitz Report
» Review of the economics of sustainable development: Final Report