We are the UK Government's independent adviser on sustainable development. Through advocacy, advice and
appraisal, we help put sustainable development at the heart of Government policy
Education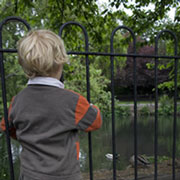 Inter-generational justice is central to sustainable development, and the people who work with children and young people are on its frontline. From this starting point the SDC set itself many challenging goals over its period of focus in this area, from 2004-11:
1. To help children to grow up in healthy and sustainable environments, free from noise, pollution and danger from roads, and within easy reach of green and natural spaces for play and learning
2. To enable the education system to prepare children and young people for a bright green future, not a failing consumption economy. That means understanding the roots of climate change, poverty, insecurity and obesity, and looking again at our values
3. To ensure the services encountered by children and young people as they grow up – their schools, doctors surgeries, youth centres, children's homes, playgrounds, hospitals and transport services – are examples of sustainable operation so it becomes the norm
4. Most of all to ensure that children and young people are ready to stand up for what they know is right, taking responsibility for their own future.
School carbon emissions
The SDC worked intensively with the Department for Education from 2006-11 on analysis, strategy and policy to reduce carbon emissions from the schools estate in England, cutting utility costs at the same time. This work enabled the Department to publish a Carbon Management Strategy for Schools in England in 2010:
» DfE Schools Carbon Management Strategy
With the demise of the Building Schools for the Future Programme in 2010, the SDC set about designing a national energy services programme for schools with the DfE, intended to retrofit all schools requiring it with energy efficiency and renewable energy systems. Set to launch in 2011, the programme will be delivered largely through 'invest to save' private finance. It is the first major scheme of its kind to be launched by Whitehall and promises to lead Government in delivering workable public-private solutions to this national priority.
Scotland
SDC Scotland has worked across schools, further education, higher education and lifelong learning under the umbrella of the UN Decade for Education for Sustainable Development. We have run a series of events to integrate the principles, values, and practices of sustainable development into all aspects of education and learning.
Key Publications
» Improving Young People's Lives: The role of the environment in building resilience, responsibility and employment chances
» Every Child's Future Matters
» Carbon Emissions from Schools: Where they arise and how to reduce them
» SDC's six priorities for sustainable schools

» SDC submission to the Education and Skills Select Committee

» SDC submission on the Primary Capital programme

» Review of opportunities for improved carbon savings from spend on education buildings