We are the UK Government's independent adviser on sustainable development. Through advocacy, advice and
appraisal, we help put sustainable development at the heart of Government policy
Commissioners
Will Day, Chairman 2009 - 2011
Having graduated from the University of Exeter with a degree in Politics, Will spent the majority of his early career working in international development with organisations such Save the Children UK and Oxfam GB. Instrumental in the establishment of Comic Relief, Will went on to become its first Grants Director, before moving on to become the first full time Director of the Opportunity Trust. Between 1996 and 2004, he was Chief Executive of CARE International UK. Until July 2008 Will was Chairman of the BBC Children in Need Appeal, the largest grant giver for disadvantaged children in the UK, and an independent assessor for the public appointments process of the DCMS.
He is currently Special Advisor to the United Nations Development Programme (UNDP) and a Senior Associate of the University of Cambridge Programme for Sustainability Leadership, where he is a faculty member of the Prince of Wales's Business and Environment Programme. He is Chairman of Water and Sanitation for the Urban Poor (WSUP), a non-profit company bringing together private sector and NGO organisations to pursue the MDG for water and sanitation, and most recently has been appointed as a part-time Sustainability Advisor to Pricewaterhouse Coopers in the UK. He sits on the Board of the Overseas Development Institute (ODI), and is a member of WWF UK's Council of Ambassadors.
Jonathon Porritt, Chairman 2000 - 2009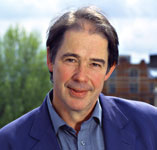 Jonathon Porritt, Co-Founder of Forum for the Future, and former Chairman of the UK Sustainable Development Commission, is an eminent writer, broadcaster and commentator on sustainable development. Established in 1996, Forum for the Future is now the UK's leading sustainable development charity, with 70 staff and over 100 partner organisations, including some of the world's leading companies.
In addition, he is Co-Director of The Prince of Wales's Business and Sustainability Programme which runs Seminars for senior executives around the world. He is a Non-Executive Director of Wessex Water, and of Willmott Dixon Holdings. He is a Trustee of the Ashden Awards for Sustainable Energy, and is involved in the work of many NGOs and charities as Patron, Chair or Special Adviser. He stood down as Chairman of the UK Sustainable Development Commission in July 2009 after nine years providing high-level advice to Government Ministers.
Commissioners
| | | |
| --- | --- | --- |
| Maria Adebowale | Val Ellis | Tim O'Riordan |
| Rod Aspinwall | Ann Finlayson | Derek Osborn |
| Jan Bebbington | Nicky Gavron | Alice Owen |
| Helen Browning | Chris Gibson Smith | Anne Power |
| Bernie Bulkin | John Gilliland | Hugh Raven |
| Maureen Childs | Tess Gill | Waheed Saleem |
| Rita Clifton | Brian Hanna | Charles Secrett |
| Lindsey Colbourne | Deirdre Hutton | Richard Wakeford |
| Anna Coote | Tim Jackson | Becky Willis |
| Ed Crooks | Alan Knight | Jess Worth |
| Stewart Davies | Tim Lang | Graham Wynne |
| Peter Davies | Walter Menzies | Raymond Young |