We are the UK Government's independent adviser on sustainable development. Through advocacy, advice and
appraisal, we help put sustainable development at the heart of Government policy
Who's Up For A Low Carb Diet?
18 June 2009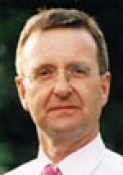 In many ways, the success of the farming industry in the last fifty years has been astonishing, its productivity underpinned by ingenuity, technology and sheer hard work. But also by cheap oil.
In turn, that means that the food economy makes a significant contribution to greenhouse gas emissions; the Cabinet Office report, Food Matters, notes that UK food production and consumption accounts for 18% of UK GHG emissions.
SDC Commissioner, Professor Tim Lang, has identified what he calls the 'food hotspots', those elements of our diet responsible for the highest emissions – meat and dairy foods, glasshouse vegetables, air-freighted produce and heavily processed foods. For example, a study from the National Institute of Livestock and Grassland Science in Japan has calculated that a single kilogram of beef is responsible for the same amount of carbon dioxide as is emitted by the average European car over 150 miles.
Food, of course, is still the only commodity we truly must have, but our changing consumption has led to major health impacts. In his first annual report, our Chief Medical Officer claimed that 'Northern Ireland is facing an obesity timebomb'. Two thirds of men and over half of all women here are either overweight or obese and facing the attendant increased risks of coronary heart disease, diabetes and cancer. The twinning of these two arguments on the environmental and health implications of the food chain makes a powerful statement of support for the low-carbon diet or, as Tim Lang terms it, eco-nutrition.
The health benefits of eating fresh food have been well-rehearsed. There cannot be many people who have not heard the 'Eat Five a Day' mantra – which even has its own website. It is a consistent medical message – eating more fruit and vegetables is essential for good health. Some meat and dairy products are high in fat, particularly saturated fat, which has links to an increased risk of heart disease. At the same time, meat and dairy foods are important sources of dietary iron, calcium and zinc, all important nutritional elements.
Environmental Impact
In terms of environmental impact, there is less ambiguity. Globally, meat is the most resource-costly form of food. A recent UN Food and Agriculture Organisation report, Livestock's Long Shadow, listed the environmental damage and 'deep footprint' of animal husbandry – producing 9% of human-related CO2, using a third of global arable land for animal feed, responsible for the degradation of 20% of pasture land and very damaging to water resources. The implications of our consumption of animal protein are clear; Food Matters concludes that the evidence on health and the balance of environmental analysis suggests that a healthy, low-impact diet would contain less meat and fewer dairy products than we typically eat today.
However, long before we get to implementing a sustainable food system in this country, there are daunting complexities in seeking to define what it is, not least because there around 20,000 red meat producers alone in Northern Ireland. That singular fact and its economic significance may impede progress towards our shared understanding of what a sustainable food system may look like. Our agri-food industry is of great importance, of course, with food processing accounting for around 20% of total manufacturing, and half of that coming from the meat and dairy sectors.
Food for export from Northern Ireland represents some 60% of total sales so it is critical that we retain vibrant agri-food businesses that are responsive to consumer demands, which may begin to change. Defra recently issued a consultation paper entitled 'Ensuring UK Food Security in a Changing World', although it was somewhat lacking in the kind of sustainable development thinking that SDC would have applauded. Once again, Tim Lang's observations are pertinent. "We are sleep-walking into a crisis", he says, predicting the end of the era of cheap food and even actual commodity shortages. The UK produces around 60% of its own food and its 'just-in-time' distribution around the country is incredibly vulnerable to interrupted fuel supplies. During the fuel tax protests a few years ago, supermarkets were a few days away from the spectre of empty shelves, by their own admission.
Food Futures
Our food supply may not be vulnerable in the short-term but to assume that 'world markets' will automatically be open to a food dependent UK might be a risky policy. There are no easy solutions to the problems being identified by the new analyses of the food system but policymakers and the public alike need to be aware that the world of food is changing and to act accordingly. One obvious conclusion is to buy much more of our food from local sources. That's attractive on many levels – more support for our agri-businesses, fewer food-miles, more resilience against external factors. In addition, it is certainly the case that changing what we eat is as important as where it comes from.
Another sore in food policy is waste. WRAP estimates that around a quarter of all food purchased by consumers is thrown away in one form or another. The Green Alliance's report, Cutting our Carbs, draws two key conclusions, both of which seek the development of a healthy, low-impact diet. Its list of recommendations includes the challenge to government to make it compulsory for the public sector to meet its own Healthier Food Mark in all its food procurement by 2012. That would provide the sort of leadership by example that could boost the efforts of the CMO to tackle obesity, help local businesses and reduce our carbon footprint – all right there in the Programme for Government.